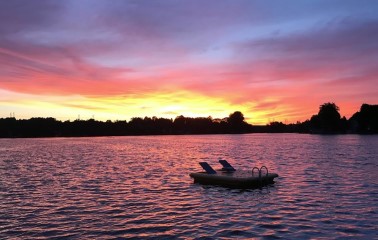 Lake Rosalind is located in south western Ontario Canada.  It is situated northwest of the Town of Hanover, in the municipality of Brockton, in the County of Bruce.
Lake Rosalind consists of three lake areas interconnected by waterways.  There are two additional lakes immediately south, which are collectively named Marl Lake, and are also connected by a waterway.  Combined, Marl Lake and Lake Rosalind make up the "Marl Lakes".
The main sources of water for the lakes are natural springs and underground aquifers.  Lake Rosalind is a headwater lake which provides water for Marl Lake, Marl Creek and ultimately the Saugeen River.
The Marl Lakes are surrounded by a mix of full time residences and summer cottages.  Residents enjoy lakefront living in a close nit community atmosphere.  The lakes provide fantastic fishing and recreational boating.
Residents have formed the Lake Rosalind Property Owners Association (LRPOA) which maintains an active executive with involvement at both local and regional levels.  This web site is provided by the LRPOA.